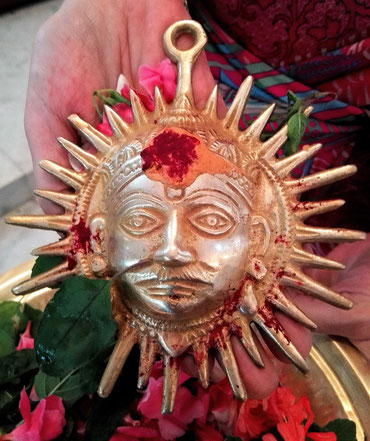 Thaipongal is a thanksgiving festival, an opportunity for man to express his gratitude towards God and Nature for all they give. It consists of Bhogi, Thai, Mattu and Uzhavar Pongal and is conducted on four successive days in the month of January. Today is Thaipongal. on which we thank Surya Bhagavan (God in the shape of the sun) as the light-, warmth-, and life giving force through which we as human beings can live on this earth.. 
Another name for Thaipongal is Makara Sankaranthi, which refers to the beginning of Utharayana period, i.e. the sun traveling back northwards during the next six months, shedding more light and warmth to the earth. 
Happy Thaipongal!
We - all the beings on this planet - form one whole composite being, which is itself another part of a still greater being - the whole cosmos. 
On this auspicious day we pray for the welfare of all beings on this planet to live happily and in peace! Samastha Loka Sukhino Bhavanthu!
 All the photos were taken during the morning session of Thaipongal function. The evening part (sports, games and creative work) of it is being conducted just now :)