Instead of snowflakes landing softly on the tree branches of a winter landscape, our subtropical "winter" landscape in the Southern parts of India is suspending a few rainbows across the sky and blesses us with cool breezes and milder sun rays at this time of the year. The picture below was taken just a few days ago from a terrace of our ashram.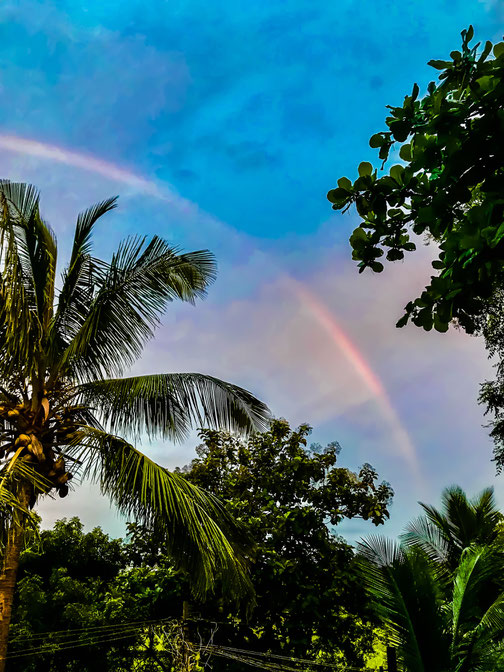 This newsletter brings you general as well as more detailed reports about
Yoga classes with the children

Events of the Aum Pranava Ashram Old-Age Home

And a closer view of celebrating festivals in India as well as ashram-specific cultural festivals held regularly in the Aum Pranava Ashram.
The newsletter concludes with pictures and videos of the last months' ashram events and a short preview until March 2019.
With our exclusive video of the Aum Pranava Ashram children singing a German Christmas Song called Kling Glöckchen Klingelingeling, which they were thrilled to learn and so excited to perform for this occasion, we take leave of the readers with good wishes for the New Year.
---
General Notice
The chicken pox virus has finally left the ashram precincts. We remember that many years ago there was a similar outbreak of this epidemic which incapacitated the whole boys' hostel at that time. This time, the ashram girls were affected by this highly contagious virus despite all hygienic measures to contain the disease. The girls were lucky since the disease symptoms never got out of control. The positive effect of this endemic is that it strengthens the immunity of the patients. 
Incidentally, the virus evoked and reinforced a recurring thought in our minds which has been lingering there for quite a while now. We have always wanted to set up a real infirmary which would be very helpful in related emergencies.  This ward could gradually develop into a health care center with an emphasis on disease prevention and alternative therapy methods. 
---
As I mentioned in our last newsletter, the cowshed was under attack of a foot-and-mouth disease virus, which lasted for about two months. All the animals were treated with homeopathic remedies and emerged unharmed from long-term effects of the disease. We are very grateful to both viruses for leaving humans and animals without causing too much suffering and pain. 
---
Yoga
Yoga is a real blessing for children. They love movement and do sometimes appreciate the physical challenges posed by the more difficult asanas (an asana is a pose), as you can see from the picture below.

22 girls and 9 boys have alternating Yoga classes every day in the morning from 6:00 to 7:30 AM (Sunday is off). The more playful Yoga class for the eight younger children (age 6 - 9 years) takes place in the afternoon.
Yoga is more than sport. It is rooted in a thousand-year-old philosophy and has an efficient approach to human development on all levels of existence: physical, mental, psychological and spiritual. As a certified teacher and experienced practitioner of Yoga, I see that Yoga offers an unlimited storehouse of tools of experience for every person, young and old, promoting healthy physical growth and posture, a more controlled body awareness and physiotherapeutic means of treatment. Whether it is the restlessness of adolescent people, lack of concentration and even emotional disturbances, the right way of practicing Yoga can have a very beneficial effect on the individual.   One of the greatest things about Yoga is the experience of inner balance and a joyfully, deeply relaxed state of mind, which - in turn - enhances the quality of life in general. 
I am pleased and grateful to be able to watch the positive effect of the regular Yoga classes on the children's bodies, minds, and souls. 
The following pictures were taken during a photo shooting since I do not take photos during the yoga classes.
Since prayer and meditation are part and parcel of our Yoga classes, I have added a brief video of the Aum chanting to give you an idea of the atmosphere during a Yoga class. 
---
Old-Age Home
25 elders live in our ashram at present, the majority of them being women. In October 2018, a group of elders from Tirunelveli, who collect material donations for needy elders and distribute in meetings organized by them, came to our ashram to hand over all the things which they brought for personal as well as general use of the members of the old-age home.
Here are a few photos of this meeting: 
A Life Story
The picture on the left side shows our most senior old-age-home resident by name Subramania Sharma, nicknamed Sharmaji, as he was honored as a person and staunch devotee of his beloved Lord Siva three years ago.
According to his personal ID card, which is a trustworthy document, Sharmaji's age is 118 years. No, this is not a typo! He lost his eyesight as a younger man, which did not deter him however from studying the songs and verses on his beloved Lord Siva, which he always used to memorize over so many years. He would ask friends or even strangers to read passages from the texts and help him to memorize those lines.   This way he could retain hundreds of verses and chant them in the early morning hours from his phenomenal memory. He lived for many years as a convinced mendicant and had a little place under the canopy of a house in a nearby town, where he used to keep his trunk containing all his belongings. During the daytime, he used to stay at the temple or wander the streets in search of food, not even shying away from the heavy transport traffic on the main road!
Visvanathan invited him to a Sunday lunch in 2002 for the first time. He had been knowing him for some time already and visited him sometimes in his place under the canopy of a house in a small street of Sengottai. We thought he might like to stay in our ashram since he was blind and seemed to be in need of help. But we couldn't have been more wrong than that. Sharmaji always rejected those offers, because he valued his independence above all and would not have given it up for anything in the world.
A traffic accident in 2010 forced him to reconsider his stance on independence when he was pushed down by an auto rickshaw and lost two toes. At the age of 110, he finally and gratefully accepted our offer to stay in the ashram. 
8 months ago, he fractured his femoral neck. His bones did not grow together anymore, and an operation was not considered advisable due to his age. I took the photo below just a few days ago.
He has accepted his fate. His will to live and his memory are still active, even though he confesses to having forgotten a few stanzas from his books.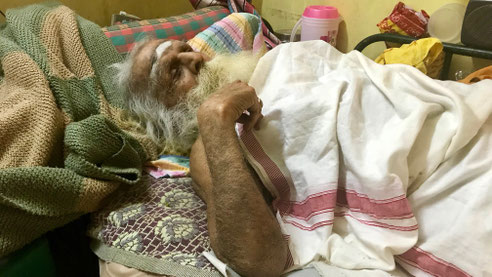 His Life's Motto
"The creation is insignificantly small before the creator, the omniscient and omnipotent force, just like a mosquito is infinitesimal compared to the planet earth. In the presence of this omnipotence, the egoistic and selfish human does not have freedom of will; due to the attachment to his senses, his knowledge is limited. He has to bow and surrender to the Higher Will Power - consciously or unconsciously.  Grace alone will bestow purpose, meaning, and freedom to mankind."
---
Festivals in India
Generally speaking, people in India like to celebrate with friends and family. Even simple marriage ceremonies pride themselves with at least 200 to 300 guests. 
Is there a deeper reason for this? Apart from the personal and national holidays, the religious events take the lion share of festivals in India. All religions including ethnic and indigenous groups and communities live side by side in this country which displays a dazzling variety of social and cultural diversity. The Life and beliefs of these communities are reflected in the festivities, and those festivities strengthen the family ties and community relations.
Of course, we are living in a fast world where business terms and international calendars play a more critical role than local community festivals, and it is true that the festive events are becoming shorter especially in urban surroundings. However, people in more remote areas and on the countryside still give high priority to family festivities, religious ceremonies, and festivals.
The Aum Pranava Ashram is socially and culturally adapted to the local customs and celebrates various festivals with and for the people. 
On the occasion of the ashram-specific festivities, we honor those people or spiritual teachers, who have helped us personally or who are connected to the ashram in one way or the other. Examples are the nine-day-long Ramanama Japayagna or the Annual November Programs.
The photos below depict events from the festivals of the past three months'.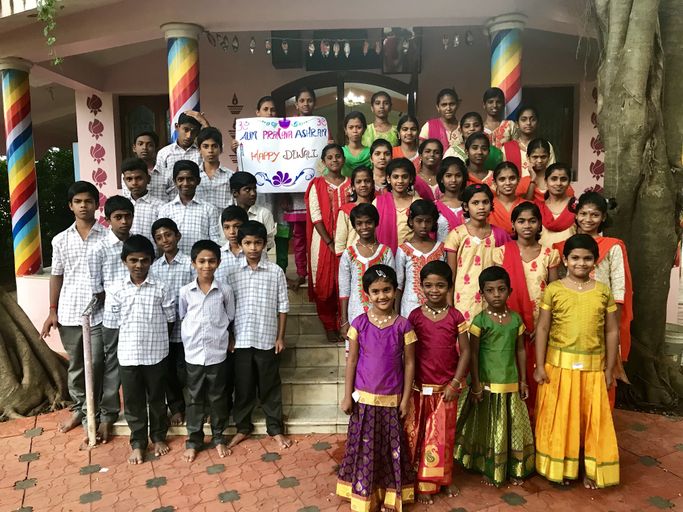 1. Deepavali / Diwali
End of October /Beginning of November;
Deepavali is celebrated all over India. 
Meaning: Festival of Light. It is the celebration of the victory of Light over Darkness; the triumph of virtues over vices. 
Fireworks and crackers initiate the celebrations. Children cannot wait to light the first crackers early morning! Another important of Diwali is the gift of new clothes. It is a tradition that every person should wear a new dress. The ashram management organizes the purchases of textiles and tailoring charges for ALL the ashram family members, children and elders as well as staff and volunteers. Homeless people, too, come to the ashram to receive a set of new clothes.  
---
2. Aum Pranava Ashram November Programs (20 - 23 November annually)
In memory and honor of our spiritual teachers who helped us personally in various ways to reach deeper psychological/spiritual levels of existence, bestowing contentment and strength to us, we organize cultural, artistic and spiritual programs as well as a free medical camp for ashramites and people from towns and villages nearby. Invitations are sent to all friends of the ashram near and far. 
Artists, singers, and vocalists, gifted storytellers and speakers as well as devotees meet in the Aum Pranava Ashram to spend time away from the ordinary daily routine and enjoy the selected programs, perhaps stay a few days in the ashram and leave well-refreshed. The Bharathanatyam Dance Program of the Annai Dance Academy (Tenkasi) forms one of the concluding climaxes of this function on the last day. Our ashram girls are also students of this Dance School. I wouldn't want to deprive the readers of the joy of watching these items and have uploaded a few videos of this year's dance program.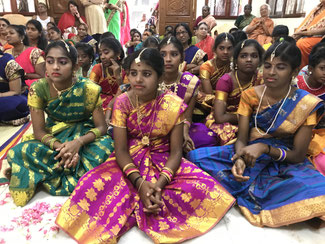 ---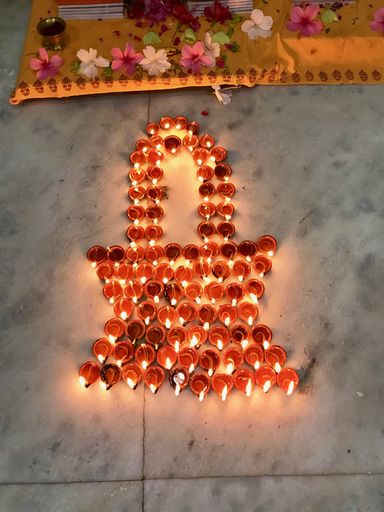 3. Karthikai Deepam 
Despite being one of the oldest festivals in Tamil Nadu, Karthikai Deepam is still celebrated with great enthusiasm. People light oil lamps inside and outside their houses on the Full Moon Night of the Tamil month Karthikai. 
Time for a short, mythologiocal story? 🔱
Brahma-Vishnu-Siva are the three Divine forces responsible for creating (Brahma), maintaining (Vishnu) and destroying (Siva) the universe. creating (Brahma), maintaining (Vishnu) and destroying (Siva) the universe. There is also a beautiful play on the English word GOD with these three energies: G(generating) - O(organizing) - D(destroying).
According to the Puranas (a mythological compendium of legends relating to the deeds of 'Hindu' Gods and Goddesses), there was a dispute between the three Divine Energies as to who among them would be the most sovereign force in the whole Universe. Brahma and Vishnu were severe in their claim to supremacy. To teach them a lesson, Lord Siva appeared to them as an ever-expanding pillar of the most brilliant Light of which neither the beginning nor the end was visible. Lord Siva told them that he would subordinate himself to the one who could find one or the other end of this pillar. And thus, Brahma and Vishnu departed in search of either end of this mysterious pillar of light. 
Realizing Lord Siva's Divine Play, Lord Vishnu wisely discontinued his pursuit. Lord Brahma, however, did not want to give up his search and moved further and further into deep space. On his travel, he saw a flower which carries the Tamil name Thazhambu falling down in space. Proudly, the flower told Lord Brahma that, long ago, it had been used for a Pooja in honor of Lord Siva. After touching Lord Siva's head, it started falling down and had been falling ever since this pooja had taken place 30,000 years ago! Lord Brahma and the flower made friendship and plotted a story to win this battle! Together they traveled back and reported that they had both seen the head of Lord Siva from where - according to them - this light pillar originated.
Of course, Lord Siva saw through this intrigue and punished both for their insatiable pride. He resolved that no temple should ever be built for Lord Brahma on this earth and that the Thazhambu flower would never be used for any Siva Pooja again. His words came true. There are no temples for Lord Brahma, and the Thazhambu is shunned from poojas.
This day of Lord Siva's appearance as the unfathomable pillar of Divine Light is celebrated as Karthikai Deepam or Thirukarthikai. Below are some pictures of our Karthikai Deepam celebration. 
---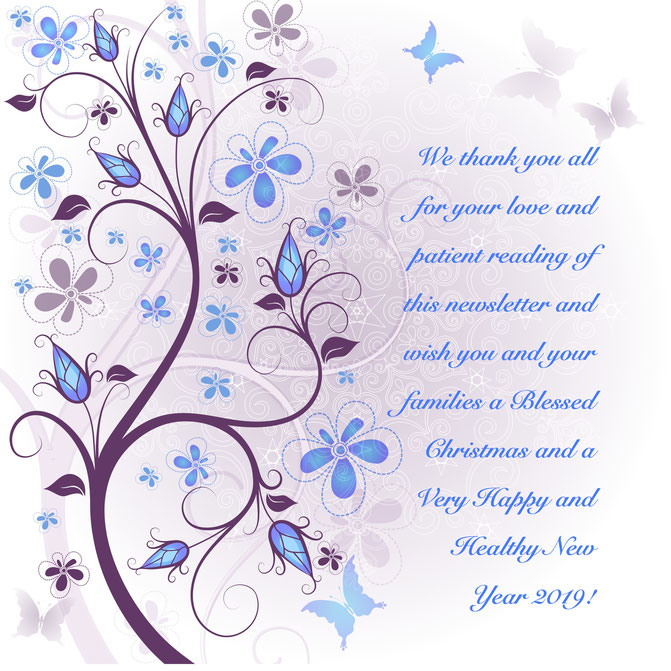 ---
In our March edition of the newsletter, we are going to tell you about our Christmas and Pongal Celebrations, as well as beautiful stories of Ganesha. Our support of homeless people will be highlighted, and other things which we do not yet know will happen until then :)
Another BIG THANK YOU goes to all the supporters of the Aum Pranava Ashram in 2018!
Without your help, we could not have done all this! THANK YOU!
The closing video of this newsletter is a German Christmas Song named Kling Glöckchen Klingelingeling sung by our Aum Pranava Ashram Children in German(!). They had a lot of fun during the rehearsals, and we hope that the video will bring the same happiness to you, too!
Kling Glöckchen Klingelingeling
End
---